Ishido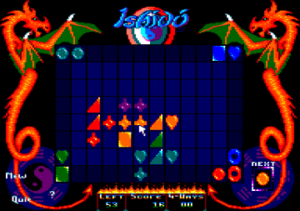 Code, music: Targhan
Gfx: Slyder (Hard'Os)
Release date: 2005.
Platform: Any CPC with 128kb. In-game English and French manual.
This is a puzzle game based on a so-called oriental game (but it's not!). Quite simple to understand, very addictive, very hard to master. Manuals in both English and French are included, don't be afraid! This game was first conceived as a part of the DemoIzArt. When we decided to remove its menu, releasing this game as a stand alone was a quite obvious choice. Have fun!
On top of that, Ixien from the excellent website Amstrad Today has made a beautiful cover to stick on your 3′ disc, and create a nice packaging to the game. Fans of the game will be delighted, it will look like an original back in 1990. Ain't it great ?